Do you condemn torturing, wherever that may be coming from?
The article below, written by the distinguished Greek journalist and documentarist Aris Hatzistefanou (www.efsyn.gr , www.info-war.gr , www.debtocracy.gr , www.catastroika.gr  ), critically discusses the recent events of another incident of torturing performed by the Greek police (more info on the event can be found here:
http://www.guardian.co.uk/world/2013/feb/04/greek-police-accused-beating-suspects ).
Pictures of the detainees where the signs of the police's assault are evident in their face: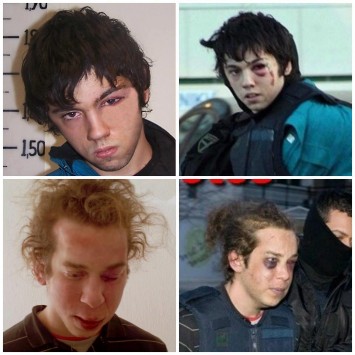 Not even a year passed since the Greek police dismantled a right-wing group of bandits in Northern Greece. Has anyone ever wondered why these people did not get tortured, as it normally happens on the arrests of anti-fascist, anarchist and other groups*?
Until now, governments and mainstream media journalists simply denied the accusations of tortures and they usually threaten to sue anyone who claimed the opposite**. But, since February 2013 we can clearly claim that the political and media elites openly support the practice of torturing.
The apparent paradox is that in Greece, torturing did not emerge as an answer to penal actions like bank robberies, but as political persecution against the antifascist motorcycle march. The greek police and the government never felt the need to gradually legalize their new practice to the public. What they wanted from the first moment was to show that political dissidents will from now on be victims of torture.
While the parliamentary Left was having a defensive stance and was trying to prove to its opponents that it condemns violence independently of where it comes from, the same approach was abandoned by the same system that created it. The government of Samaras – Venizelos – Kouvelis, is indirectly approving torture practices and chooses its victims with political criteria.
It could not be different though in a country where the largest newspapers are calling us to 'thank the Golden Dawn'*** and they write glorious eulogies for blood-thirsty murderers of the colonel's junta. It could not be otherwise in a country that is controlled by a mafia of smugglers. It could not be otherwise at a country where the news over scandals that concern banks are silenced by TV channels that are paid by the very banks that are caught into scandals.
An extremely unfair system requires equally extreme forms of violence to maintain itself in power and to continue to serve the interests of those that have created it.
But have these people realised the impact of their actions? Are they conscious that their recent twitter messages do in fact legitimise extra-institutional forms of violence, no different than the previous public assault on (the now minister) Hatzidakis?
Do they apprehend what it means to ask for the revival of capital punishment**** at the same time that the social web is being dissolved, and the Nazi right-wing is inside the parliament?
Let's not ignore the facts. None of them had ever condemned violence from every source. They had merely condemned any form of resistance against their economic dictatorship. It's just that since the last week they admit it openly.
Notes:
* 9/10/2012 Greek anti-fascist protesters 'tortured by police' after Golden Dawn clash. Fifteen people arrested in Athens say they were subjected to what their lawyer describes as an Abu Ghraib-style humiliation. http://www.guardian.co.uk/world/2012/oct/09/greek-antifascist-protesters-torture-police
** Minister of 'Citizen's Protection' Dendias, said that he would sue the Guardian for its article on the Greek police's torturing of antifascist demonstrators, for slandering, arguing that tortures are not performed by the Greek police. Tortures were verified though by doctors examining the police's victims and Dendias has still not sued the Guardian.
*** Reference to the (disdainful) 16/9/2012 article of 'I Kathimerini' – one of the largest daily newspapers in Greece, of conservative and neoliberal political affiliations – by Stefanos Kasimatis, entitled 'Golden Dawn's opportunity for Democracy' (sic) where Kasimatis argues that 'those who belive in democracy (sic) should thank the Golden Dawn' (sic) for the opportunity it gives to the establishment to break the 'established' (sic) 'violence of the Left' (sic).
**** In a recent statement, Makis Voridis -a neo-fascist that had ties to the imprisoned Colonels of the 1967-1974 Junta of Greece, was head of 'the National Front' during the late 1990's and early 2000's, with ties to Jean Mari Lepen, now a member of 'Nea Dimocratia' and a minister of the current Greek government- argued that capital punishment should be reinstituted because it works preemptively against crime.