Greek woes drive up suicide rate
Experts attribute rise to the country's economic crisis following release of statistics that show a 40% jump since last year
Helena Smith in Athens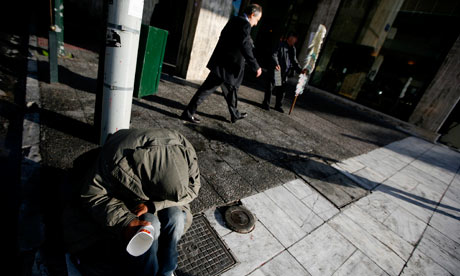 A homeless man begs for money in Athens. Photograph: Alkis Konstantinidis/EPA
The rate of increase in suicides in Greece was the highest in Europe in the first half of 2011, according to figures from the country's health ministry. Experts attribute the rise to the country's economic crisis.
Painful austerity measures and a seemingly endless economic drama is exacting a deadly toll on the nation. Statistics released by the Greek ministry of health show a 40% rise in those taking their own lives between January and May this year compared to the same period in 2010.
Before the financial crisis first began to bite three years ago, Greece had the lowest suicide rate in Europe at 2.8 per 100,000 inhabitants. It now has almost double that number. Attempted suicides have also increased. While the country's suicide level is still among the lowest in Europe in absolute terms, the ministry's reported rate of increase has come about despite the stigma attached to suicide in a country where the Orthodox church refuses funeral rights for those who take their lives.
"It's never just one thing, but almost always debts, joblessness, the fear of being fired are cited when people phone in to say they are contemplating ending their lives," said Eleni Beikari, a psychiatrist at the non-governmental organisation, Klimaka, which runs a 24-hour suicide hotline.
Klimaka received around 10 calls a day before the crisis; it now gets more than 100 in any 24-hour period.
"Most come from women aged between 30 and 50 and men between 40 and 45 despairing over economic problems," said Beikari. "In my experience it's the men, suffering from hurt dignity and lost pride, who are most serious."
As poverty has deepened, unemployment has hit an unprecedented 18% (with over 42% affecting the 25 to 40 age group) and crime has skyrocketed in a country heading for a fifth straight year of recession. Greece's social fabric is fraying in ways once unthinkable. With the homeless now exceeding 20,000 in central Athens alone, funding cuts disproportionately affecting welfare services and drug use on the rise, the economic crisis has morphed increasingly into one of mental health with depression, neuroses and cases of self-harm also surging, according to experts. Psychiatrists have reported a 30% increase in demand for their services over the past year with most patients citing anxiety and depression brought on by financial fears for the decision to seek help.
Child helplines have similarly been deluged by calls. "The crisis is clearly aggravating family relations," Katiana Spyrides, another psychotherapist, said. "In particular we've seen increases in the stress levels of children and adolescents who face new problems, such as seeing their parents imprisoned for economic crimes, or who because of the situation have had to compromise their emotional and other needs."
Psychiatrists say the alarming rise signals an urgent need for a national suicide prevention policy in a nation that until now had discounted the need for one.
"Preventative strategies have to be increased," said Beikari. "Teachers, prison guards, priests, police, professionals in a position to spot those who might be suicidal, need to be sensitised. This is an issue that can no longer be ignored."
Most suicides, attempted and real, have occurred in the greater Attica region surrounding Athens and on the island of Crete where a number of businessmen with no prior history of mental illness have taken their own lives over the last 18 months.
• Some text and a heading in this article were corrected on 21 December 2011 because they described Greece's suicide rate as the highest in Europe. The rate is among Europe's lowest, but the rate of increase in early 2011 was high, as the story said elsewhere.
© 2012 Guardian News and Media Limited or its affiliated companies. All rights reserved.